Services
We offer a multitude of services, but only offer the right solution to our clients.
Website Development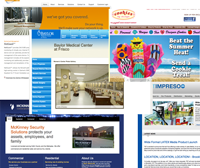 Our SEO skills will help bring your website to the top of search engine results. Our team will work directly with you to coordinate a solution for your business. Whether it be for an existing business looking for a new way to compete online, or an effective shopping cart for a new marketing channel. Please contact us if you would like more information on our gaining more customers through the web.
SQL Optimization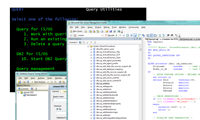 We are experienced with all versions of popular database engines, including Microsoft SQL and DB2. This allows us to convert older applications and websites to new database structures effeciently and effectively. Our team has strong database administrator (DBA) skills to optimize and secure database environments from single processor systems supporting a marketing website, to multi-cluster farms of servers used for enterprise applicaitons. Please contact us if you would like more information on SQL optimization and conversion and how we can help you succeed.
Custom Applications

SoftWorks delivers custom applications to clients in the medical field, employee relations, retail segments, as well as in the distribution and the food industry. Whether it be applications for the local franchises or the remote offices overseas, we get to know your needs by working in direct contact with subject matter experts within your organization. Please contact us if you would like more information on customization for your business.
System Support

We offer hosting, support onsite, remote support and numerous other hybrid support solutions to fit your needs. The power of the internet can be brought to you with the right partner. Cloud based hosting solutions as well as VM shares are available for hosting your website. MS SQL, MySQL, DB2 database services are also available with local DBAs to monitor traffic. Please contact us if you would like more information on our support services.
Legacy Transistions

Our years of experince has brought with us along with the evolutuion of computer programming and our team helps clients evolve with the changes that happen everyday. VB6, RPG, Cobol, Access, and other legacy languages make up a majority of today's software applications. Let our team convert your critical app to a new system using the latest technology. Please contact us today to learn how we can optimize, secure, and promote your business.
Latest Releases
08.01.20 | CONTINUUM MSP
Managed Service Partner Announcement
New partnership with Continuum Managed Services. Cloud computing is only going to grow at the expense of on-premise server and network infrastructures. Already 40% of small and medium sized businesses rely in part or completely on the cloud. Our partnership with Continuum allows Softworks to support multiple onsite and cloud based I.T. infrastructures with remote monitoring tools and support staff.
01.22.21 | Online Point of Sale
Cookies by Design, Plano Texas
SoftWorks delivers Cookies by Design online Point of Sale (POS). Technology advancements allows the use of cloud computing and website terminals to run multiple franchise Cookie by Design bakeries and shoppes.